Everybody is encouraged to participate with his or her individual skills and helps the movement grow. As we are working globally to support decentralization and the local economy our approach is to follow a glocal (global and local level combined) organizational model.
We are constantly looking for skilled people who want to help in developing this beautiful movement. Join us in the "Ask Anything"-group on Telegram or fairchat or in the FairCoop Forum and get directly in contact with us. You can also drop us a message or connect for technical-related requests in FairCoin-developer-chat on Telegram or fairchat.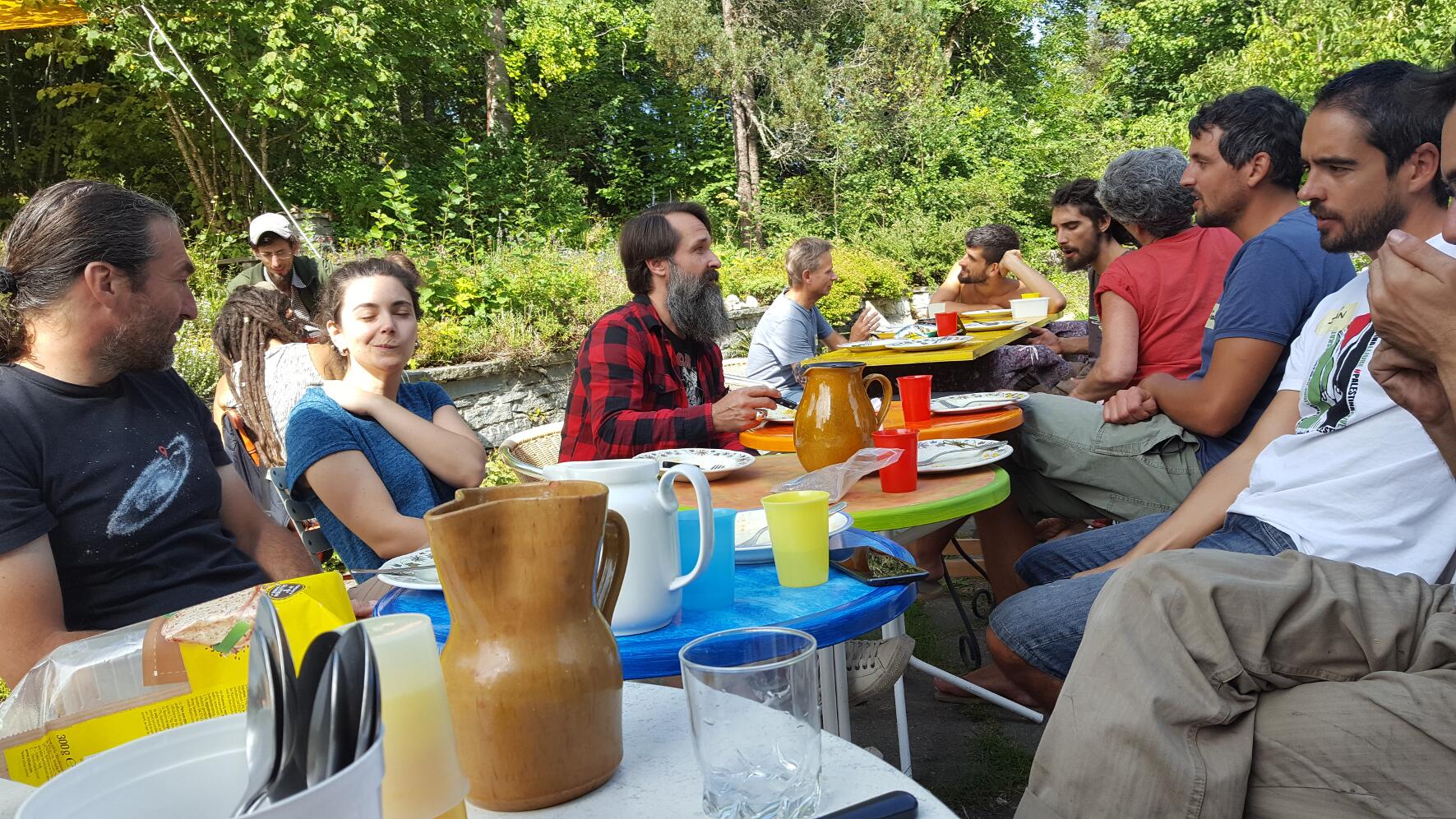 Here you find a list of all chat groups  of the FairCoop ecosystem as well as a map with all existing local nodes. If you cannot find a local node in your area we are happy to help and support you in setting one up.
Gathering at Summercamps & Hackathons
Dozens of supporters coordinate their work in chat groups and issue trackers. Sometimes we meet physically or pop up at meetups.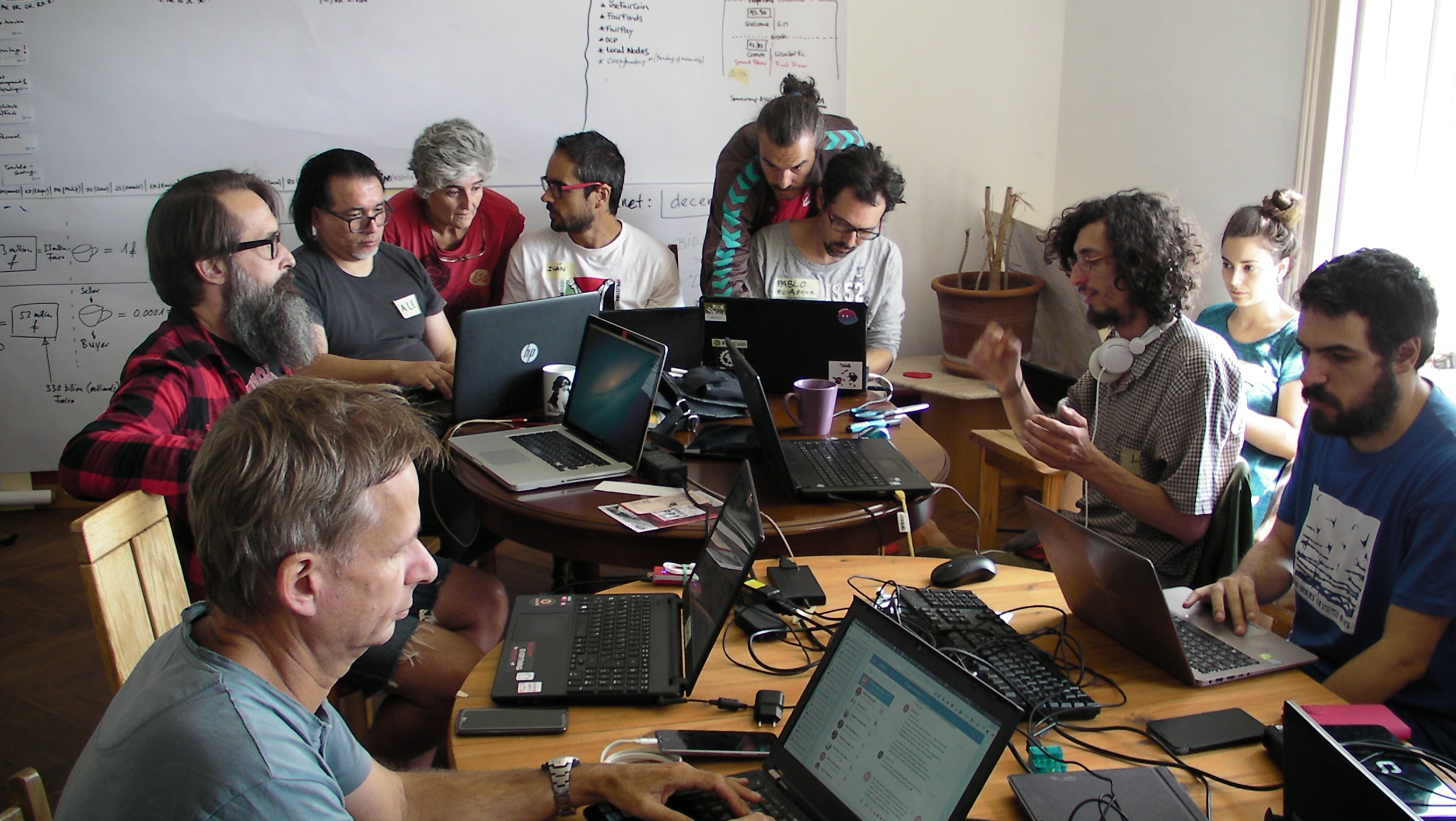 Here is a list of upcoming and past events. If you want to invite a FairCoin core team member for your meet-up, for consulting or a presentation, please do not hesitate to contact us.
Upcoming events
Soviet Blockchain summit
We will be presenting the Proof-of-Cooperation mechanism in Moscaw on June 7th 2018 at the soviet blockchain summit.
FairCoop Summer Camp 2018
20 July - 19 August 2018 in Serbia in a mountain hut near Sremski Karlovic (organized by Novi Sad Local Node).
More information on the organization pad (>> read-only link) and on this >> Telegram group.
Previous events
Makers4Humanity
19 - 21 May 2018 Gräfenhainichen (lake - side) DE
At this three-days event near Halle/Dessau in Germany we have been networking with 50+ sustainability initiatives in german speaking countries. We presented FairCoin, FairCoop, fairlogin and fairchat and workled out a common hastag: #fairmove . See details at their >>homepage  and the fairkom Blog (in german).
Blockchain Meet-up Tirol, Austria
January 30th,  2018, 18h30 @TechCoWork Coworking Hall in Tirol
FairCoin Workshop London
Saturday 20th January 2018, Somerset House Studios (confirmed)
organised by www.networkcultures.org
q/talk Vienna
Talking about Blockchain. with Roland Alton (FairCoin) and Georg Markus Kainz (quintessenz) at q/talk .
28. November 2017, 20:00 (Entrance 19:00)
Location: Museumsquartier MQ / Raum D Museumsplatz 1, 1070 Wien
Event has been videorecorded, language is german:

Linuxday Dornbirn
The annual open source event in the western part of Austria near the Swiss and German border offers workshops, talks and an exhibition. This year FairCoin will have its own booth and the core developer and inventor of the "Proof-of-Cooperation" consensus mechanism Thomas König will attend.
When? 2017-12-02  9-17h - free entrance
Program and location: https://www.linuxday.at/
Facebook event: https://www.facebook.com/events/147937485816394
FairCoin 2017 Hackathon
We offer to organise a hackathon to work together on open FairCoin tasks around the Linuxday. Focus is iOS wallet and integrations.
When? 2017-11-31 until 2017-12-03 - depending on the participants' availability
Registration: http://termino.osalliance.com/FairCoin_Hackathon_2017/
Chat group: https://fairchat.net/channel/faircoin-development
Travel expenses can be covered from the FairCoin foundation fund.

FairCoop Summer Camp 2017, Jura, Switzerland
Read more about FairCoop Summer Camp 2017: Blog Summer Camp 2017