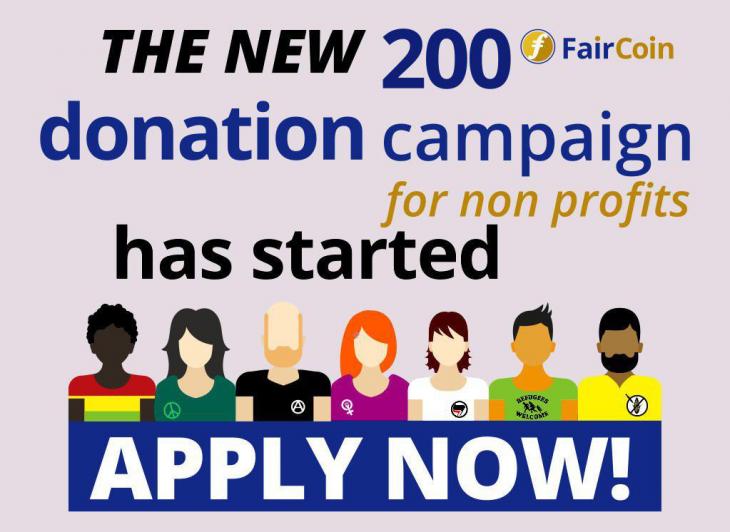 In light of the desire of FairCoop to expand its reach globally, and in order to take new realities into account, the donation campaign in its second phase is re-starting with new a value (this time 200 FairCoin are offered to those groups that adhere to our criteria). This will serve to further increase our visibility at a time of growing real-world success and practical growth, and function as a positive feedback loop, where more cooperatives hear about FairCoin and start using it, and more goods and services become available, resulting in a slow but steady increase in our ecosystem. 
In the first part of this FairCoop donation campaign, launched almost three years ago, 62 applications were received. Now that FairCoin is growing stronger as a cryptocurrency, supported by a growing community all around the world, we hope that this second part of the campaign will generate even more success between the collectives and FairCoop partners. 
From the initial 100,000 FAIR budget, 38,000 FAIR now remain, so the first 190 applicants will be granted 200 FairCoin each.
By doing this, FairCoop aims mainly to promote FairCoin and to highlight its use as tool for online solidarity donations, whether national or international, serving as a reminder that the use of money can be social and unselfish. Besides, it aims to strengthen our circular economy by putting more FairCoin into circulation, and to maintain close links with those non-profit groups in tune with our principles.
So, if your collective is interested in participating, you can find out how to sign up here:
Conditions:
Participants cannot be individuals or private companies         
You are a part of the collective/group (friends can't apply for you)            
Be one of the first 190 received applicants
The donated FairCoin may not be changed back into fiat money (Euro, etc.), but should be spent inside our ecosystem: See places or products/services where you can use your FairCoin.
Requirements:
Add a permanent FairCoin donation page or sidebar buttons/widget for donations (suggested material here) or a QR image of your FairCoin address in your blog/website (see example)
Add the following post/tweet in your collective social networks (Diaspora, GnuSocial, Quitter, Twitter, FB, etc):
We accept #FairCoin from FairCoop <http://fair.coop/>. An ethical, ecological #cryptocurrency, driven by the intention to build a fair and circular economy<https://fair.coop/economic-system> and contribute to the #integralrevolution         
1. Brief description (min 50 words)
2. Links to your blog page or social networks with the donation message (see requirements above)
3. How did you find out about FairCoop and FairCoin?
4. How is your project in tune with the FairCoop principles and the Integral Revolution?
5. How do you intend to use the donated FairCoin?
6. Have you bought/sold anything using FairCoin before?
7. What is the FairCoin address where you would like to receive the 200f donation?
Note: After 1 week when all the requirements have been satisfied, and if nobody has opposed your candidature, it will be approved and your collective will receive the donation after the next Common Management Assembly. We will be grateful if you use the same forum topic thread to explain the circular flow of those FairCoin that you receive.